It's been a minute since I've gotten a Stitch Fix box and shared my picks from it with you guys. I don't do monthly boxes (my bank account would never survive), but I do get them every now and then when I want something new but don't have the time – or energy – to go out and find it. For this box, I requested an option for a Valentine's date outfit as well as some cute, comfy, casual tops…and my stylist delivered! I loved all of the options, but ultimately decided to keep three of the five picks.
The Date Night Look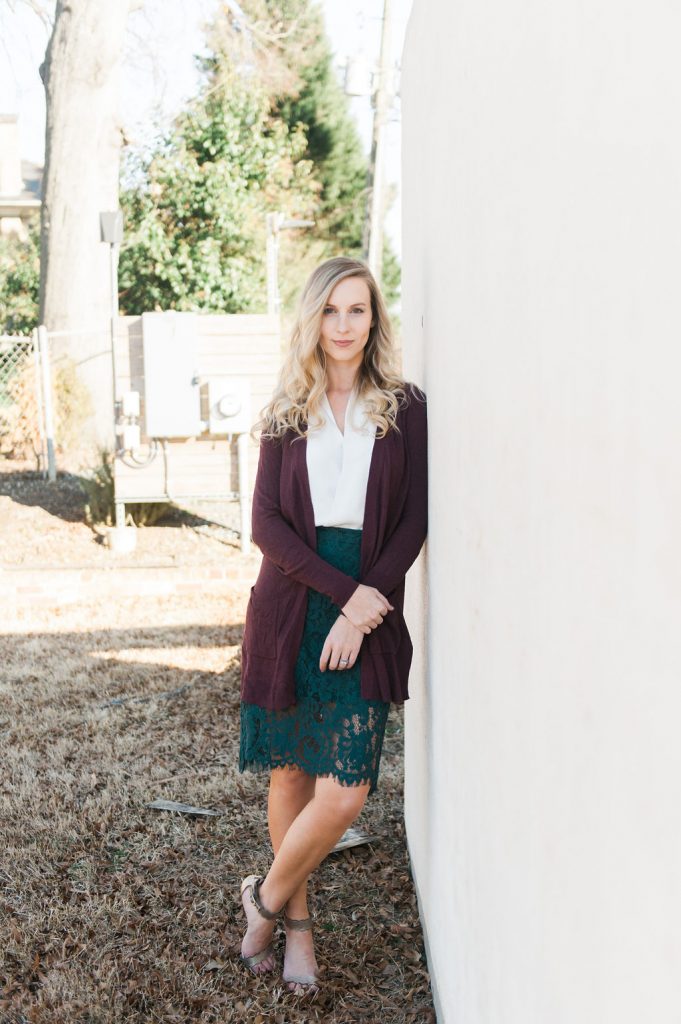 Who says your Valentine's outfit has to be red or pink? Honestly, that's what I expected, but was pleasantly surprised to see this gorgeous green lace skirt in my box. This piece is more versatile and I am more likely to wear it during a number of other events throughout the year, knowing I don't wear a lot of red on a regular basis.
My stylist paired it with a beautiful floral wrap top, but I decided to return the top and go with my favorite white Vince Camuto top (the one I'm wearing is old, but here's a similar one) that goes with every skirt in my wardrobe. It's such a classy look, and my photographer said I look "very european." lol! I'll take it!
The green goes great with a burgundy cardigan to throw on over the outfit to keep warm on a chilly Valentine's night. I just love layering with complimentary colors!
The Transitional Top
This top was my favorite piece of the entire box. I love the stripes, the tie accent, and the material. It is a great layering piece in the cooler months, but also looks unique and cute alone when it starts to get warmer. I definitely see myself throwing this on under a cardigan when the weather is winter in the morning and summer in the afternoon, and then with a pair of jeans or shorts and sandals when it's warm around the clock (when is that happening again?).
The Cozy Knit Top
Oh, mauve, how I love you so. I don't nearly have enough mauve in my closet, so I was stoked to see this beauty sent to me. The shape is cute but comfy. No layering needed, except to maybe throw a pretty necklace on top of it. Perfect with jeans and almost any bootie, this is definitely my new go-to piece when I want to look cute but not try so hard. 😉
Did you know that Stitch Fix offers more?
Stitch Fix also offers boxes for maternity, men, and kids!