If you have been following me for a while, you know I love apps that make my life easier; I don't have time to think about what to actually do, I just want to do it. I have an app that helps me pick out my outfits and an app that plans my workouts for me. Now all I needed was a meal planning app. Enter PlateJoy.
PlateJoy has been a…um…joy to work with. It is accessible as both an app and as a desktop website. At first I was wondering if it was going to be full of exotic recipes that my husband (or even I) wouldn't eat. However, as I started the process to start my plan, I quickly realized it would not be that way.
There is SO MUCH this app does for you that I can't possibly list it all, but I'll try my best to tell you the most useful and awesome aspects.
The Quiz
You start the process by filling out a quiz. This tells PlateJoy about all of your food preferences. And I mean ALL. I don't think there is a question they didn't think to ask.
First, the quiz asks about the people in your household. How many adults and children, portion size for each, and if anyone is trying to lose weight (then it asks weight and goal weight, age, activity level if you check yes). You even give the names so each recipe customizes portions and nutrition info to each person. This information (as well as everything else in the quiz) can always be edited later.
It then goes into dietary restrictions (carbs, meats) and asks about other things that might affect your diet (pregnancy, kosher, dairy free, etc). You tell it how much variety you want, what ingredients you want to avoid, bread, milk, and pasta preferences…pretty much anything you can think of that would dictate the kind of ingredients that are found in your recipes. You can even choose to get more adventurous recipes or family friendly and tell it how much time you generally have to prepare each meal.
Limit Food Waste
A big thing this app likes to focus on is limiting food waste. The amount of extra food that goes bad before you use it, or leftover food that you don't eat, is such a waste. It's something we should all be more mindful of even just when buying groceries. Throughout the entire process of PlateJoy (quiz, choosing recipes, etc), it alerts you which options will result in more or less food waste. This isn't something I think about enough, so it was great having it remind me to keep it in mind.
Your Own Personal Chef
After filling out the quiz, there is a lot that this app does. First of all, you get assigned a "personal chef" that you can contact either by email or through a chat feature on the desktop site. How cool is that? They are there for any questions about your plan or recipes and to help adjust any recipes to your preferences any time you need them to. It's great to have them available because sometimes there might be one or two things that you don't love in a recipe, but they might be able to make some adjustments to make the meal delicious for you.
The Meals Aren't Random
When setting up your meals each week, there are options available to make your plan fit best with your lifestyle. First, you choose the number of each type of meal and recipe you want. I usually went for the two breakfast recipes for four days, two lunch recipes for four days, three dinner recipes for four days, and two snack recipes for four days.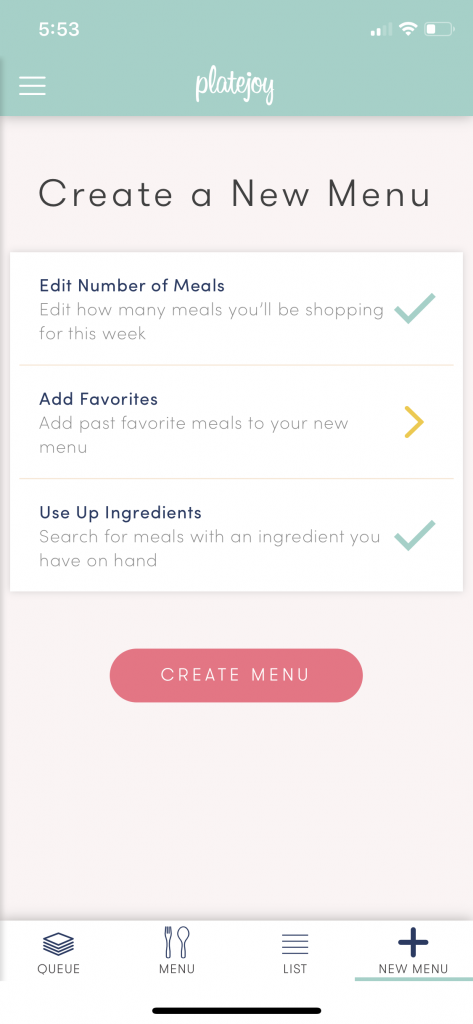 A great way PlayJoy focuses on reducing food waste is asking if you have any ingredients you want to use up with next week's meal plan. Have an extra zucchini? Type it in the search bar and choose a recipe from the options that pop up to use it in for the upcoming week!
You also have the option to swap out, delete, or add recipes to make your meal plan even more custom. There is quite literally no way this won't work for you.
Customized Shopping List
The hardest thing about creating shopping lists from recipes you find on the internet is figuring out exactly how much you need. Recipes are always written in "tablespoons" or "cups" but the ingredients come in "ounces" and "liters." The PlateJoy personalized shopping list makes those conversions for you so it tells you exactly how much of each item you need to get. That one fact right there changed my life.
When you first open your list, it asks you to tell it what ingredients you already have in your kitchen by logging them in your "digital pantry." Whatever you log is automatically taken off of your list.
Complete your shopping list by adding any extra items you need at the grocery store. Whether it be milk, zip lock bags, toothpicks, anything. That way you don't have to go between two different lists going crazy in the middle of the store.
Last amazing thing about the shopping list: it categorizes the ingredients for you. This is such a breath of fresh air. All of the produce is in one section, all of the meats are together, and more so you can go through your list faster while you are in the grocery store. I told you guys, I love apps that make your life easier!
Do you get your groceries delivered to you? You can send your list straight to Instacart! All you have to do is cook it at this point. (Which by the way the recipes are all super easy to make.)
Sync Your Meals To Your Calendar
Like to plan your meals to the day? Using the desktop website, you can plan which meals you want on what day and sync them to your Google, iCloud, Office 365, Exchange, or Outlook calendar! It really makes you feel like you have your life together.
In-Depth Printable Menus
You can choose the "printable" option of your menu, which creates a very in-depth PDF of your plan. For each recipe, it shows the portion amount for each person in your family based on the information you input at the beginning. Then at the end of each PDF it breaks down the nutrition information for each person as well. Is there anything this app doesn't do??
Add Your Own Recipe
Do you like to have one place for all of your recipes? Or would you like to add your own recipe to the mix of your weekly plan? You can do that! On the desktop website, you can add your own recipe, ingredients, steps and all!
I am so excited to keep using this app to find new and healthy recipes as well as to make meal planning SO much easier for me. I really struggled with it before but this app has made a world of difference. I could go on and on about all of the cool features it has, but I would be here for much longer than anyone would probably be willing to read, so you'll just have to go find out yourselves!
Ready to try it out?
Get $10 off your first subscription by clicking here and using code EVERSOEMILY.
Make sure you keep checking Dealspotr for coupons and promotions from PlateJoy!
Thank you PlateJoy for sponsoring this post.
Do you meal plan or use an app to help you meal plan? Would you give this a try? Let me know in the comments!
xo // Em