Len and I have a long "bucket list" of cities and places that we want to visit, in and outside of the US. This year we are fortunate enough to cross off at least 3 of them. Last weekend was the first for 2017: Nashville, Tennessee. I'm here to tell you everything we did during our 4 days in Nashville, and why I'm ready to go back asap!
Day 1: Friday
Friday afternoon we flew in from Raleigh and went straight to our hotel. I'm telling you – if you don't mind not staying downtown, stay at the Gaylord Opryland Hotel. It was amazing. As the 30th largest hotel in the world, it has 3 large atriums full of over 50,000 types of live plants. You feel like you're walking through a rainforest, and trust me, you need a map to find your way through. It's so easy to get lost, especially during your first time in the hotel.
Yes, that is a riverboat…inside the hotel.
Several waterfalls can be found throughout the hotel, and you can even walk behind some of them. Again, amazing. It's hard to believe that this all can be found inside one hotel.
One thing we regret was not booking an atrium view room. Each atrium view has a balcony overlooking the beautiful greenery, restaurants, and waterfalls within one of the atriums. Next time, we will definitely spend the extra money for one.
After settling into our room and grabbing dinner at the one of many restaurants in the hotel, Jack Daniels, I threw on my cowboy boots and we headed over the the Grand Ole Opry Theater to grab our seats for the Friday night show. Hence the name, our hotel was right next to the Opry, so we were able to walk over.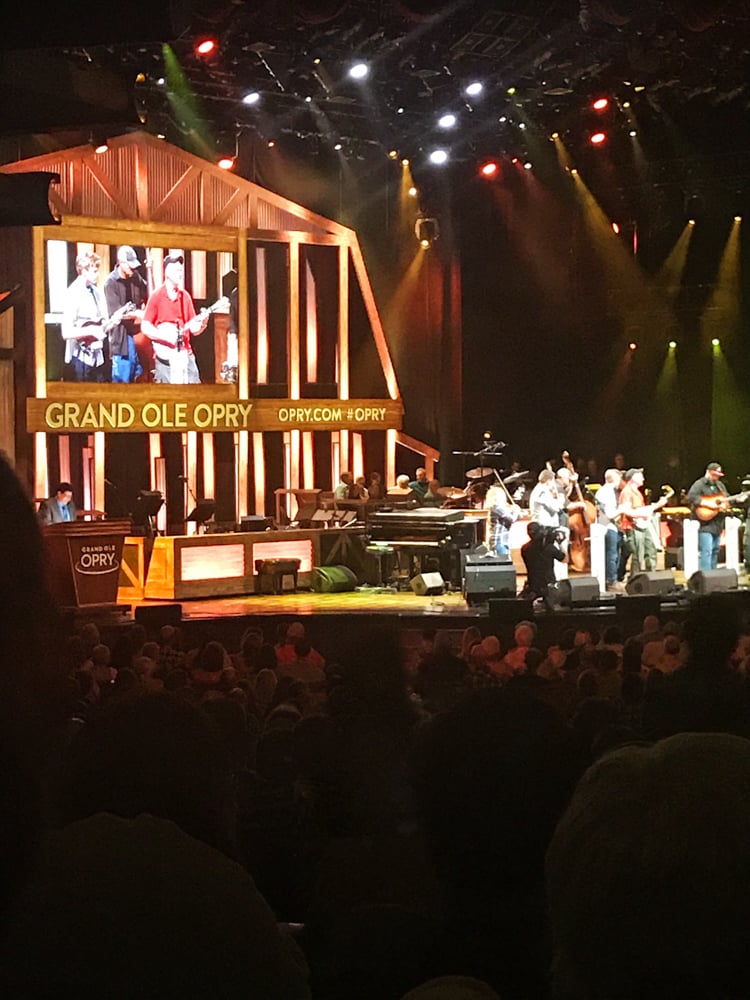 The Opry was one of the best shows I've ever been to. It was filled with amazing musicians and Country music legends including Ricky Skaggs, Tracey Lawrence, and Whisperin' Bill Anderson. We even got to see a performance by Chris Janson, who has SO much energy just watching him made me tired.
After the show, we were able to snag a pass for a backstage tour. We got to see Opry members' mail boxes and dressing rooms, the green room where they hang out between sets, and we even got to go on stage and stand in the circle in which so many celebrities performed in!
If you ever visit the Opry, I highly recommend you book this tour. You learn so much, get to see so much behind the scenes, and it's only about $30 a person! Here is a list of all tours they offer (we did the post-show tour).
Day 2: Saturday
We were excited for our first full day in Nashville! Unfortunately, it was a rainy one, so our initial plans for the day had to be switched around a bit, but is it really vacation if everything goes exactly according to plan?
Day 2 of our 4 days in Nashville started out with brunch. If you've been researching restaurants in Nashville, you've probably heard of Biscuit Love. This is where I decided we would try first. It was great…after the 2 hour wait in line. Now, we went memorial day weekend, so it's possible it was a little busier than normal, but from what I hear there's always some sort of line out the door for brunch. The biscuits really were great, so if you don't mind the wait, I recommend you try it at least once!
Biscuit Love is located in the Gulch, so naturally I had to go find the famous #WhatLiftsYou wings mural.
After grabbing a quick shot with the wings, we headed back to the hotel. Rain was in the forecast, so we wanted to be inside. The hotel was also right next to the Opry Mills mall, so we trekked over there before the downpour hit to do a little shopping. While there were some pretty cool looking restaurants in the mall, it was in between meal times, so we didn't get a chance to eat at one. My favorite store, of course, was the Kate Spade store. Everything was 70% off for memorial day – score! I purchased a great dress, which you will see later in the post.
The rain finally died down, so we walked back over to the hotel to explore a little more (you definitely need more than one day to see it all if you aren't inside the hotel all day). We found a cute Italian restaurant named Revello inside the hotel to eat at, and it was delicious! I had the chicken piccata and Len had the spaghetti and meatballs.
After dinner, we decided to check out the riverboat ride. The hotel was having an Alice in Wonderland themed event all weekend, so the nighttime boat rides were tea party themed! We got to see even more waterfalls and pretty lights during the ride, and it was a really cool way to see more of the hotel and learn a little bit about it, too!
We were able to explore around the hotel even more after the ride, and had a great time just looking at the beautiful lights set up around the atriums at night.
We got tired of walking after a while, so we grabbed a drink at the Falls bar overlooking the 40 foot waterfalls (seen at the beginning of this post).
Day 3: Sunday
Sunday's forecast looked a little iffy with the rain, but we lucked out as it held off after the morning! I made us brunch reservations at a small modern industrial restaurant in a cute part of town just outside of downtown that a friend recommended, Josephine. One thing that I was excited about? Mimosas before noon on Sunday! ? Brunch here was great! I got the crab cakes and Len got the buttermilk waffles. I would definitely come back here to try their dinner!
After brunch we took an Uber over to the Parthenon at the Centennial Park. While the Parthenon was a little random and unexpected, both were beautiful! We decided to check out the art museum in the Parthenon, and boy were we surprised by what we saw upstairs!
For dinner we had reservations at Butchertown Hall. We walked in and were completely consumed with the smell of smoked meat…it was awesome! It was still really nice outside so we got a seat on their patio. We ordered their queso for an appetizer (if you know me you know I'm a sucker for all things queso), I ordered the pork and brisket tacos, and Len got the double cheeseburger. Everything was so delicious!
After dinner we headed for a night out on Broadway. We walked around until we found the bar we wanted to hang out at (Len has some anxiety about crowds so we decided to find a bar with a place to sit and stay for most of the night), Nashville Crossroads. The Eskimo Brothers was the band that was playing there that night and they were amazing and extremely talented! We thoroughly enjoyed them and the bar in general. It felt like a small town bar in a big city.
Day 4: Monday
Monday was sadly our last full day in Nashville before flying out on Tuesday. Since we stayed out pretty late the night before, we got started a little later than planned. We pre-purchased a package for the Hop-On Hop-Off Trolley Tour around the city and the Country Music Hall of Fame, and Monday was our last chance to take it, so we started out on Broadway to meet the Trolley at stop one.
The Trolley Tours may be a little touristy, but if it's your first visit to Nashville, it's a great way to see all of the big sights around the entire city as well as learn about each one. Even better, you can – as the name says – hop on and hop off as you please. The trolley stopped at the Centennial Park, the Bicentennial Park, Vanderbilt University, several museums, Music Row, The Gulch, and several other places that you must see.
Between stops, we were able to enjoy lunch on the rooftop of Rock Bottom Brewery on Broadway. A very casual lunch but a delicious burger and great view of the Nissan Stadium.
Since we would be traveling on our actual anniversary (Tuesday), we decided to have our "fancy" anniversary dinner on Monday night. We made reservations at the Old Hickory Steakhouse inside the hotel. It was a beautiful, delicious place and the staff did a wonderful job making our anniversary dinner a memorable time. We especially appreciated our surprise chocolate cake!
Dress // Kate Spade Broome Street // Unavailable Online
We finished out the night with an entertaining fountain show right near the restaurant (yes, still in the hotel). While the music was dramatic and water was everywhere, it was nice to sit and relax for a bit with each other to watch it.
We were pretty sad to leave the amazing Music City, but at the same time we were ready to get back home to our own bed and fur babies.
One thing is for sure, we will be back in Nashville…hopefully sooner than later. There is still so much that we didn't get to do! What's your favorite thing to do in Nashville? Leave it in the comments below!
xo // Ems
Save